Announcing the Warcraft Logs Companion
We're excited to announce the immediate beta release of the new Warcraft Logs Companion app. The app takes on the functionality of the Warcraft Logs Uploader and goes much further.
Upload your combat log. Analyze your raid. Improve your play. All in game.
The Warcraft Logs Companion allows players to upload combat logs from World of Warcraft, either live during play or after a dungeon or raid. The Warcraft Logs servers will then parse and analyze the log before making it viewable in game. No more tabbing out to view wipes, replay, and ranks.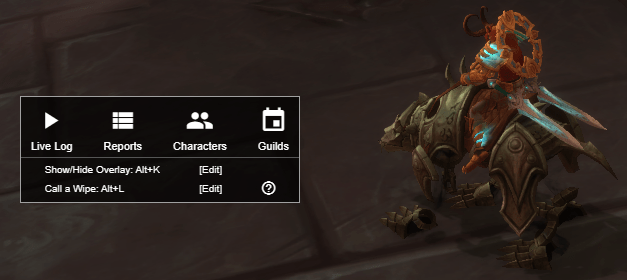 Introdução
Bem vindo ao Warcraft Logs, um website que fornece análise de combate para o MMO da Blizzard Entertainment "World of Warcraft". Salve os seus combates, carregue-os na nossa pagina e análise eles em tempo real. Descubra o que aconteceu exatamente e aprenda o que você precisa fazer para que não aconteça novamente!
CARREGUE. ANÁLISE. MELHORE.
Become a Patron!
Apoie-nos no Patreon!
Torne-se um assinante por apenas US $ 1 / mês. Os usuários navegam no site sem anúncios, podem ignorar as filas de classificações durante os horários de pico e impedir que seus relatórios sejam excluídos.

Dano ao Chefe (Restrito a, :especialização)
Boss/Trash Damage (Restricted, DPS)
Dano ao Chefe (Restrito a, :especialização)
Healing (Restricted, Healer)

Speed (Without World Buffs)
Dano ao Chefe (:especialização)
Dano ao Chefe (:especialização)
Speed (Without Trash Skips)
Dano ao Chefe (Restrito a, :especialização)
Boss/Trash Damage (Restricted, DPS)
Dano ao Chefe (Restrito a, :especialização)
Healing (Restricted, Healer)


Dano ao Chefe (:especialização)
Dano ao Chefe (:especialização)